4 questions with Lakeway City Council candidates
COMMUNITY IMPACT | By April Kelley | 5:06 PM Mar 29, 2023 CDT
Updated 5:06 PM Mar 29, 2023 CDT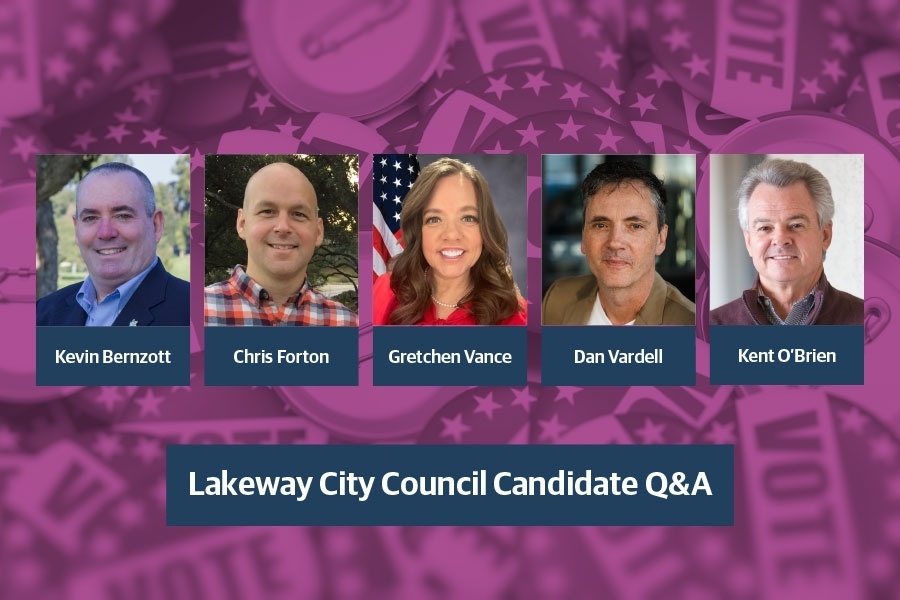 See how the five candidates for Lakeway City Council answer four questions ahead of the May 6 election.
Responses may have been edited for length and clarity.
* denotes incumbent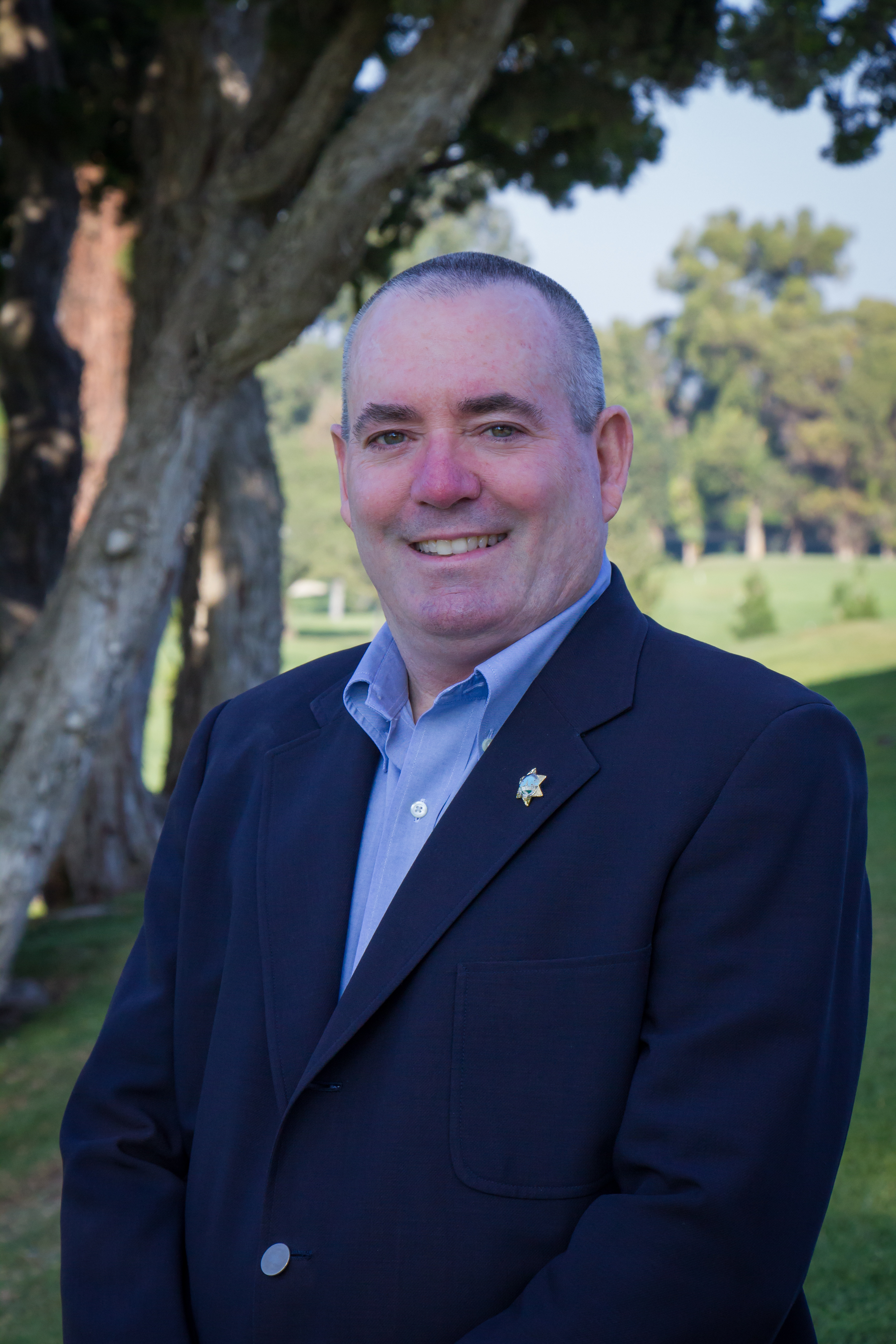 Kevin Bernzott
Experience: Successful business leader with excellent organizational and interpersonal skills; former sheriff's deputy with strong commitment to serving and protecting our community; experienced in economic development strategies with hands-on experience in finance, investing and commercial development; thorough understanding of municipal government operations, regulations, policies, procedures and responsibilities to community; proficient in the analysis of issues related to law enforcement, finance, investments and real estate development; persuasive, articulate, visionary leader and no-nonsense communicator and public speaker
Occupation: Chairperson & CEO
Candidate Website: www.kevinbernzott.com
Why are you running for Lakeway City Council?
My business experience and service as a peace officer shaped my work ethic, commitment to low taxes and aversion to intrusive government. I know that bigger government is not the answer to problems—and that more taxes and regulations don't enhance anyone's quality of life. I want to bring my experience, common sense and level-headed approach to serving the community.
What is your top priority?
Low taxes and responsible spending, including adequate funding for the police officers who protect us [are priorities]. With recent nationwide efforts to defund the police, we must do the opposite in Lakeway. Law enforcement needs resources, recruits and training to combat crime and keep Lakeway a safe place to live, visit and raise a family.
What is the biggest issue facing Lakeway currently?
Protecting and enhancing the quality of life in the beautiful Texas Hill Country, where we are privileged to live [is an issue]. Our green belts, view corridors and open spaces are essential. With the massive influx of residents and tourists over recent years, we must remain focused on responsible economic development. Road infrastructure, safety and reducing traffic congestion should also be addressed.
If elected, what is the first thing you want to accomplish?
As a small-business owner, I understand the importance of fiscal responsibility, government accountability and ensuring the government respects and listens to our citizens. People must not only be listened to, but heard. Civil discourse is required—we can disagree, if necessary, without being disagreeable. These are the principles I will bring to the council as we work to improve the quality of life for all residents.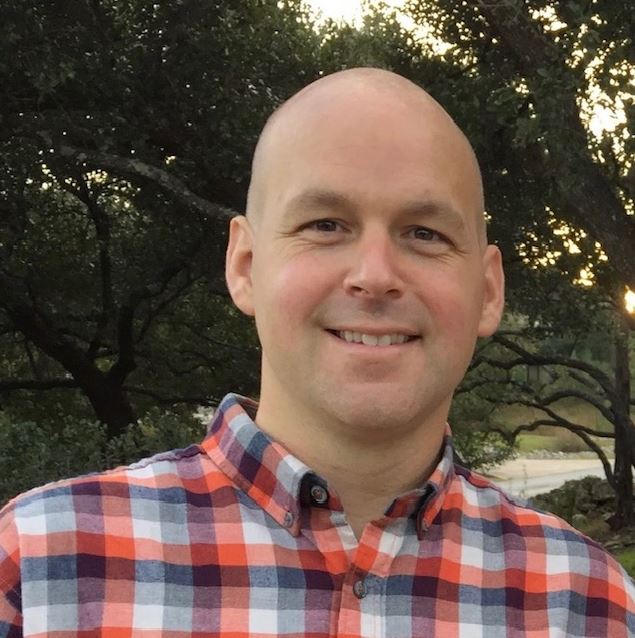 Chris Forton
Experience: Chair of the zoning and planning commission (ZAPCO); planned unit development (PUD) committee member; degree in business administration; management experience; previous firefighter/paramedic
Occupation: Annuity and life insurance specialist
Why are you running for Lakeway City Council?
Through my contributions, I have been able to actively participate in the enhancement of our community. As a married parent of two, I understand the importance of ensuring that Lakeway is a safe and thriving place for all citizens. I am passionate about collaborating with others and working together to make our city an even better place to live, work, raise a family and call home.
What is your top priority?
My top priority is going to be to preserve and improve our parks and trails. Even before the most recent ice storm, many of our parks and trails were in need of improvements. Lakeway is an active community, and walkers, hikers and bikers use our trails on a daily basis. You only need to drive down Lakeway Boulevard to see that many of the trees along the boulevard trail have been lost or damaged.
What is the biggest issue facing Lakeway currently?
The biggest issue facing Lakeway that we have control over is going to be maintaining our tax base. While Lakeway has been building out, increased property taxes from new homes have helped maintain our tax rate. In the future we will need to rely more on sales tax from retail along FM 620 and Hwy. 71 to offset that tax burden for our citizens, especially our seniors that live on a fixed income.
If elected, what is the first thing you want to accomplish?
If elected, the first thing I would like to accomplish is very easy. I would like to have the council and mayor get together and have dinner. I believe we all have more in common than we have differences. I feel that when people get together outside of city hall, it will allow us to form bonds of trust and understanding. Those bonds will be critical in working together to preserve this great city.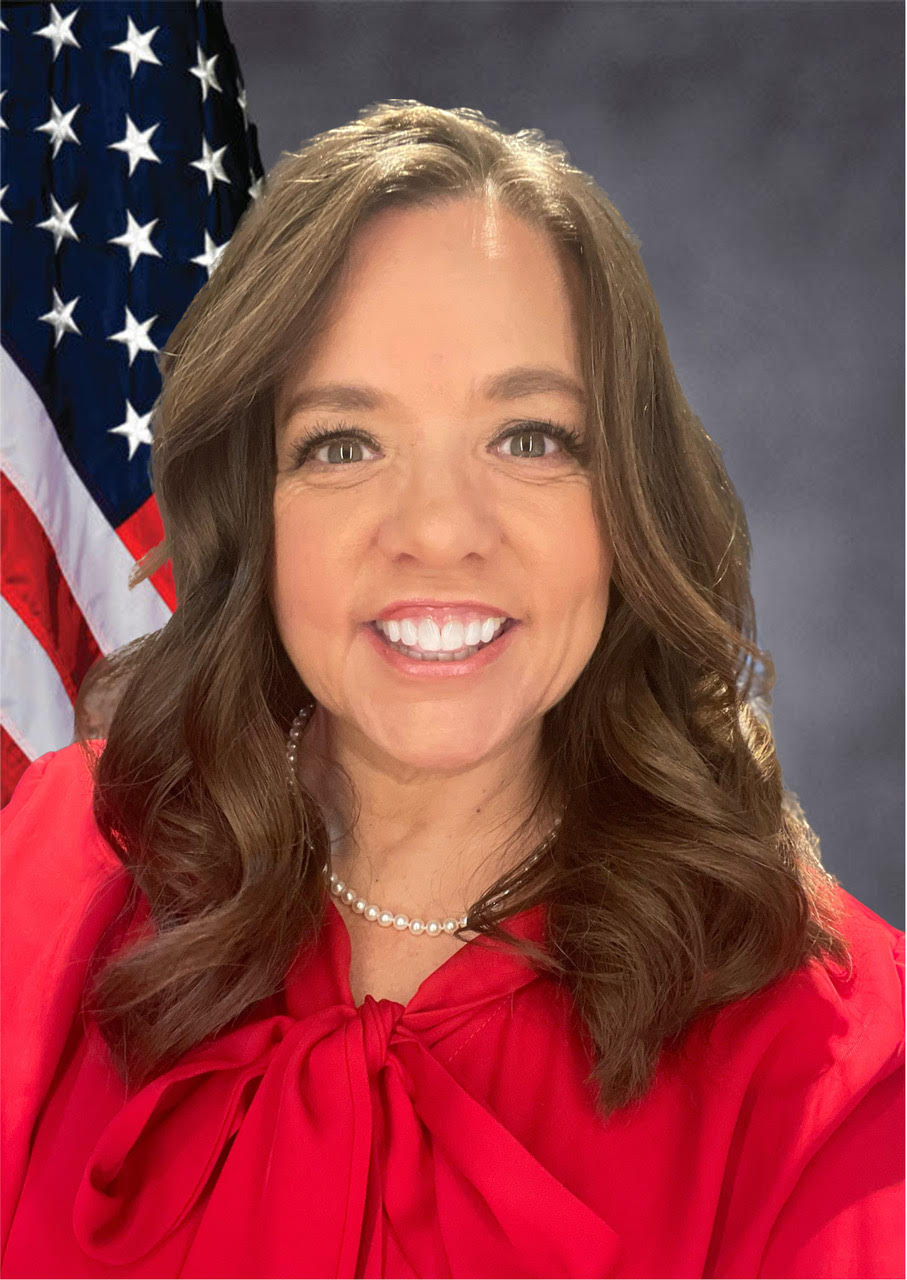 Gretchen Vance*
Experience: Lakeway City Council member (mayor pro tem, emergency management team, transportation committee, city building commission liaison, board of adjustment liaison); owner, Electric Avenue Athletics; International Event & Show Coordinator: Red Bull, Poseidon Games, Aquafly, Fly Dive & Flyboard; strategic, data-driven and focused leader; executed, managed and led multimillion dollar contracts; fiscally conservative; collaborative negotiator; effective communicator; accessible leadership; social media and marketing specialist
Occupation: Entrepreneur
Candidate Website: www.vote-vance.com
Why are you running for Lakeway City Council?
Preserving and maintaining the small-town charm of Lakeway while meeting the needs of a growing city is challenging and gratifying. We have started many projects that I want to see through to fruition, like the building of Main Street. I want to continue to improve infrastructure, launch the Parks & Recreation Master Plan, and sustain our fiscal conservative policies and directives. I believe serving our citizens in the most meaningful way possible (like handling and allocating funds for brush pickup) is a core tenant.
What is your top priority?
Experience has taught me that Lakeway is a multifaceted community with a multitude of moving parts, therefore my priorities are variable. Transportation, financial responsibility, public safety, responsible development, economic development and government transparency all flow to the top of the list at any given time based on the city's needs. On-the-job knowledge has taught me that being focused on any one initiative creates an imbalance when managing the needs of the city.
What is the biggest issue facing Lakeway currently?
Growing involvement of special interest groups have begun to dilute the voice of individual residents. Lakeway residents deserve to be involved in their government. When special interest groups seek to manipulate policy, as leaders, we need to put structure in place that prevents that from occurring. This concern is multiplied when individuals with specific agendas come from outside our city to implement policy that is not conducive to the principles on which Lakeway was founded.
If elected, what is the first thing you want to accomplish?
Lakeway's Hotel and Occupancy Tax fund continues to grow. Creating a committee to explore how the city should apply these funds is a key initiative for me. Focused and targeted tourism can be beneficial to our city. Smaller events, such as weddings, reunions and corporate retreats, could benefit from a boutique venue that serves the needs of visitors and residents using dollars in the HOT fund. This could include a special event/small convention venue.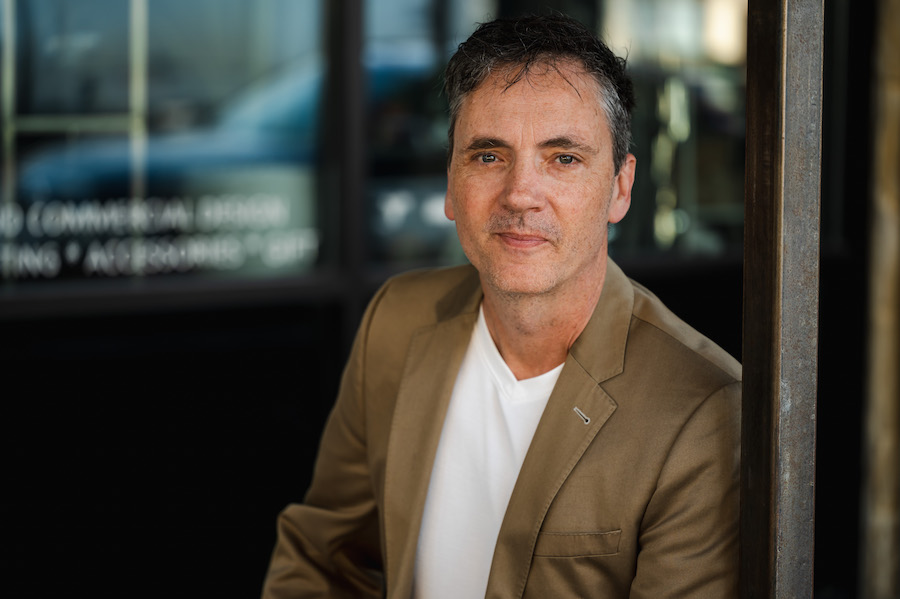 Dan Vardell
Experience: Vanderbilt University BS engineering sciences, economics; 30 years experience in Fortune 500; Member, Lakeway Comprehensive Planning Committee; Member, Lakeway Zoning & Planning Commission; School Leadership Council (SF); Coach: Little League, Girls Soccer; Volunteering: Friends of the Park, Habitat for Humanity, Community Gardens, Earth Day; parent of two children in local schools; small-business startup experience in Lakeway
Occupation: Director, Industry Solutions, Oracle
Candidate Website: www.dan4lakeway.com
Why are you running for Lakeway City Council?
Lakeway is a special place. That is why most of us moved here. It takes a great deal of hard work, by a lot of dedicated people, to maintain a town—particularly in the face of rapid growth. I want to be part of that effort.
What is your top priority?
Ensuring our quality of life is sustained as Western Travis County continues to grow and that every new development contributes to improving the quality of life for the entire community.
What is the biggest issue facing Lakeway currently?
The growth of political factions in local politics [is an issue]. There is no place for this in a small town. My goal is to avoid divisive politics in all its forms. My focus is on community, communication and coming together to support our neighbors.
If elected, what is the first thing you want to accomplish?
Meet more neighbors and connect them into the city's decision-making process. City leaders don't just deal with a couple top issues—they deal with hundreds of small ones. Too often, we must guess what residents want. Local leaders get it right most often when residents are involved in the process.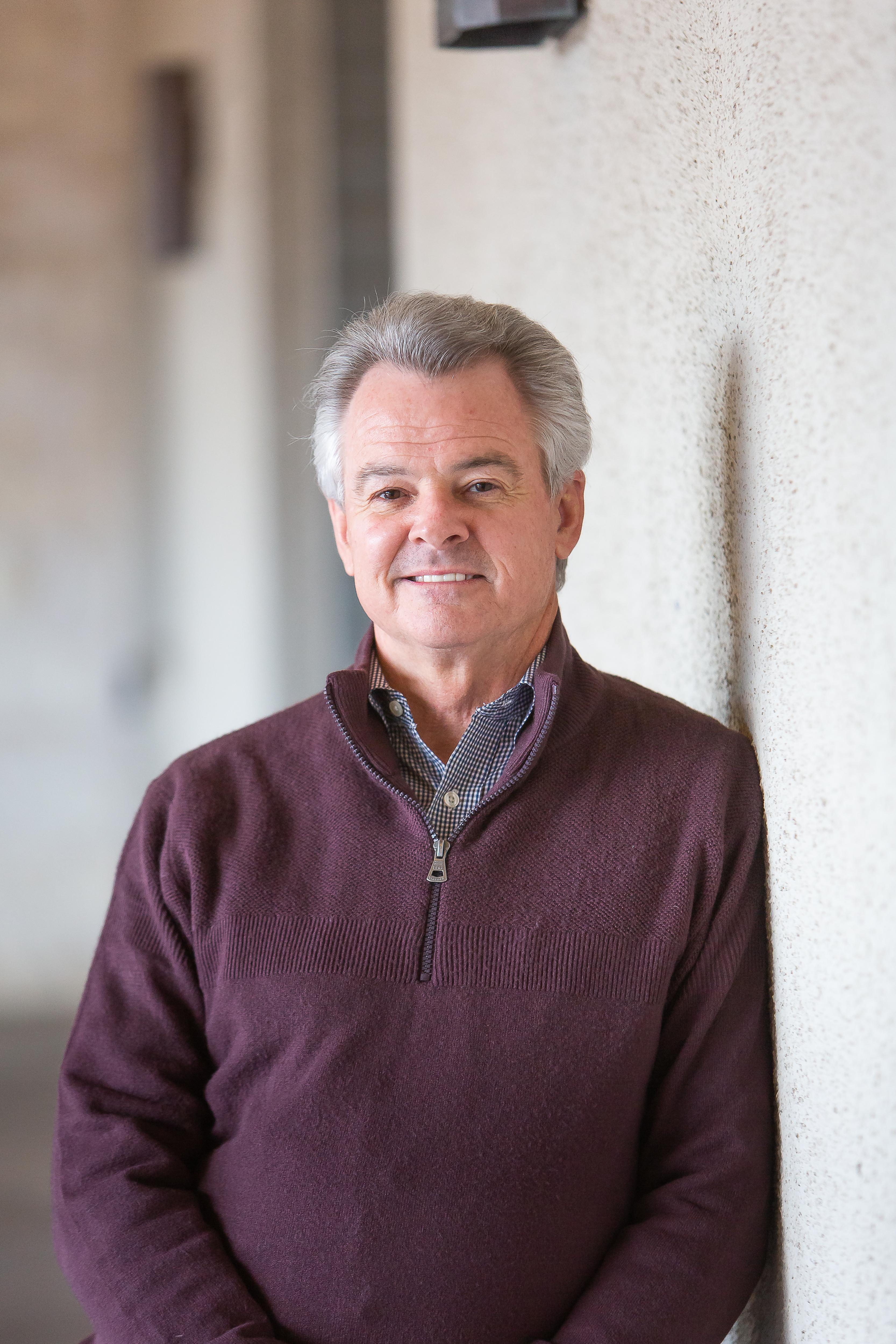 Kent O'Brien
Experience: Vice president at Quiddity Engineers LLC; innovative and result-driven leader with more than 35 years of experience in business leadership, project development and civil engineering; work history involves a diverse range of land development, water resource and transportation projects for public and private clients across Central Texas; experienced in building partnerships and fostering consensus with key business, agency and political decision-makers
Occupation: Professional engineer focused on civil engineering
Candidate Website: www.kentforlakeway.com
Why are you running for Lakeway City Council?
As a professional engineer with 40-plus years of service to Central Texas municipalities, counties and the State of Texas, I have developed a distinctive set of skills and experiences uniquely suited to the challenges currently facing Lakeway. I hope to apply these abilities to benefit the community that means so much to me and my family.
What is your top priority?
My top priority will be making improvements to our transportation infrastructure to provide desperately needed traffic congestion relief. Lakeway and surrounding communities have seen significant growth recently, but our roads and highways have not grown to keep pace, leading to skyrocketing commute times. I will work with my fellow council members to identify necessary improvements and work to implement them quickly.
What is the biggest issue facing Lakeway currently?
The historic growth we have experienced recently in western Travis County, particularly along the south shore of Lake Travis, has strained our ability to maintain adequate housing, infrastructure, safety and employment. To keep pace with current and future growth we will need to work closely with our regional partners in Bee Cave, The Hills, Lake Travis ISD, [the Lower Colorado River Authority, [the Texas Department of Transportation, Travis County and local water districts to implement coordinated solutions to our shared challenges.
If elected, what is the first thing you want to accomplish?
Re-engage the conversation with TxDOT and Capital Area Metropolitan Planning Organization to expedite construction of RM 620 improvements. My background includes 40-plus years of working for and with TxDOT that will benefit facilitating a relationship with these two very important partners that have a direct impact on our ability to improve our quality of life and the community in which we work, play and live.